Hey there Renegade fans!
So we just returned from Columbus, Ohio where we once again exhibited at the Origins Game Fair. If you have never been to Origins, I highly recommend it. All the major publishers are there and there is lots of gaming going on. Columbus itself is awesome! The downtown area has lots of great restaurants such as Melt (the best grill cheese you will ever have) and Jenni's ice cream (I dare you to try and just go once!)
The Renegade crew arrived Tuesday night and had an early morning Wednesday to get the booth set up and ready for Thursday.
Sara took a break from set-up to go and show Brick Party to Zee!
We finally got the booth all set up and it looked pretty good.
We were showing off some art from upcoming games; Covert, Dicey Goblins, which are previewing at Gen Con along with Lotus and Clank! The booth was really hopping all four days. We were busy demoing Fuse, Brick Party (releasing in July), World's Fair 1893, Apotheca, Lanterns, Kitty Paw, Gravwell, and more!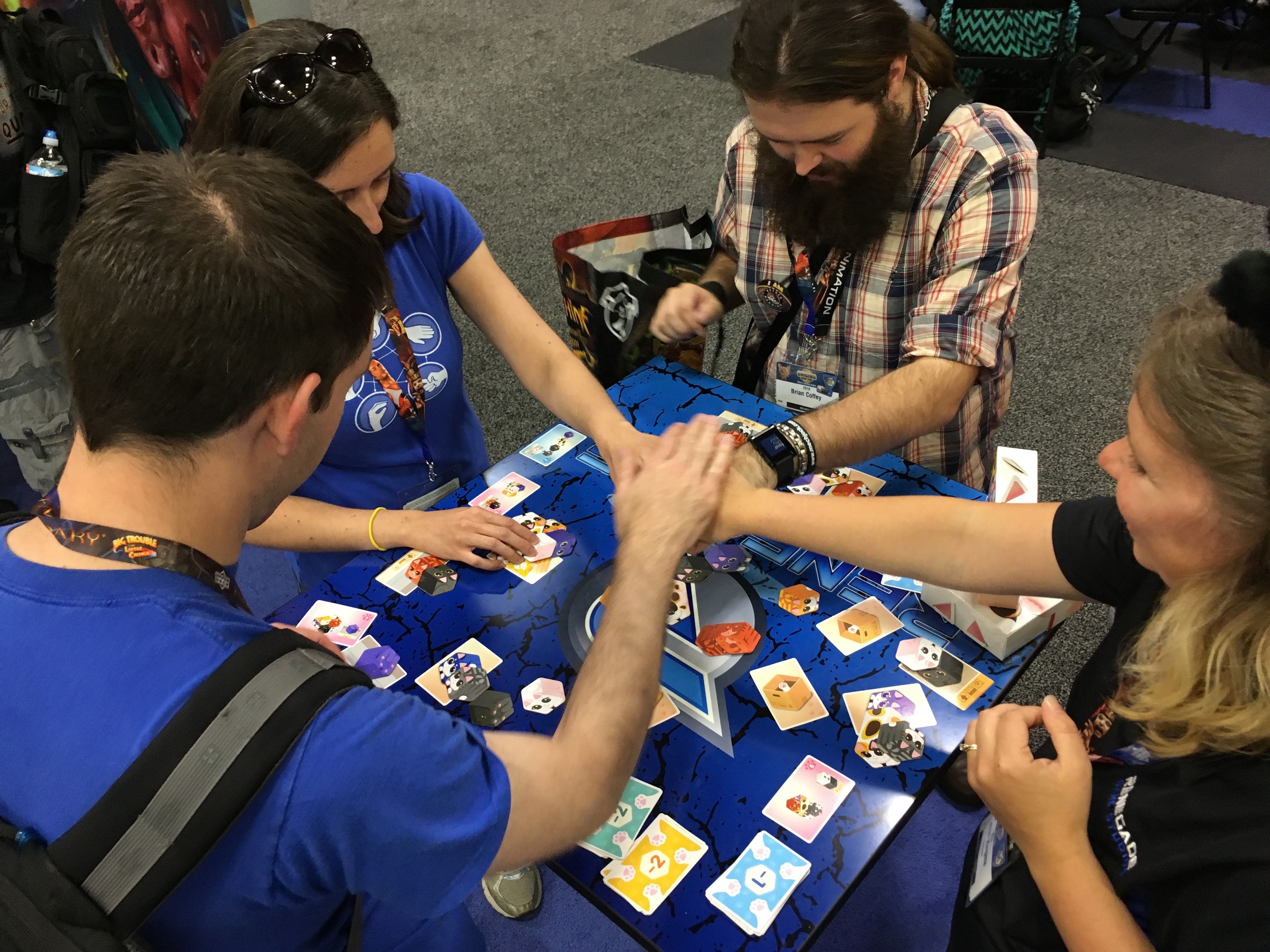 We were also promoting Lotus by Jordan & Mandy and had a pretty cool promotional item to giveaway. If you got one of these packets of wildflower seeds and plant them when you get home you will have some lovely flowers to put on your game table just in time for the release of Lotus!
Kitty also took home a flower packet along with some other game promos we were giving out on the Renegade booth!
Saturday night it was time to attend the Origins Awards. Fuse was nominated in the Family Game Category. It was up against Codenames so let's just say it was an honor to be nominated. :)
Codenames did go on to win Game of the Year as well so if you're going to lose to someone it might as well be the game of the year! Congrats to the entire team at Czech Game Editions! They even invited us to sit at their table and bought us drinks! Those folks are definitely a class act!
After a busy Sunday it was time to pack up the booth!
Then it was off to dinner with our staff. Our tradition has become Brazilian BBQ with pig and pineapple being the key motivating factor!
That about wraps it up. Renegade had a great Origins and we can't wait to go back next year. If you missed us at Origins, be sure to stop by and visit us at Gen Con. We are in booth #2304 very close to the Family Fun area.
Until next time!

Scott
Okay, one more thing. On Monday we had some time to kill before flights and Sara suggested we go to COSI (Center for Science & Industry). This place was awesome and had an exhibit on games! We weren't allowed to take any pictures in the game area but here's a pic of Zee Garcia from The Dice Tower and A GIANT LIZARD!
Enjoy!